Whether you paid top dollar to have a logo created, or you created it yourself, you can
tweek it a little now and then. Of course, remember to always keep several back up
copies of the original!


Use whatever graphics/drawing program you are comfortable with, including
Paint(from the Windows Accessories folder).


My logo was created by HP LogoWorks (I got very lucky and got in on a freebie through eBay when Logoworks first got started).



I mostly use a cropped version, seperating the girl from the text, for better flexibility. Ive also cropped it to a square to use
as my Avatar on Twitter, Google, and other sites - with and without the text naming my url.
Some changes Ive made to "my girl"
:
I first added long sleeves, to give her the layered look. This is how I most commonly use her.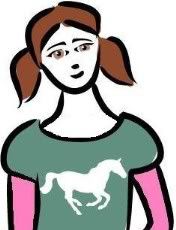 I've also....l
eft her in the short sleeves...
given her a tank top
(Im not thrilled with it, but its not so bad either)
, and dressed her up for Christmas

..............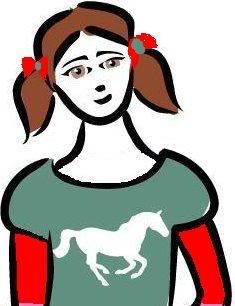 For Valentine's Day, I contracted with Gayla from RiverTree Designs to show her
dreaming of a horse on her top.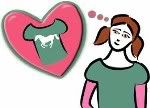 (BTW -- Great tip from Gayla: Always
start from a copy of the highest resolution file you have when making new tweeks. Then resize the "new original" to suit your needs)
In all of these iterations, its still clear its the same logo, but it gives a fresh look, and also puts viewers in the seasonal frame of mind.


Remember to use your logos in your site header, in emails to customers, on your printed
receipts, on your blog, wherever.
Even for a small online sales business, people will begin to become familiar seeing your logo, which will lead to a sense of comfort in choosing to work with you.


I would love to see what you smarties come up with. Please post a link to your before and after logo images!


Have fun!
Cindy

PS - Be Smart - keep several back up copies!

PPS - Yes, you CAN do it, even if you can't draw well. Remember, you are not starting from scratch, you are just making some tweeks! And... most importantly, you have several saved copies of your original. If what you try doesn't work out, just ditch it and start again.

Most Windows PCs will have "Paint" in the "Accessories" folder from the start menu. Go for it!